---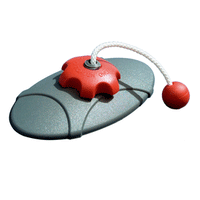 Sale
ClamSeal™ - Repairs Inflatables Fast - even when wet!

The ClamSeal™ can instantly repair splits and tears up to 90mm (3-1/2") in length without the use of any hand tools, or adhesive.

ClamSeal™ is a glue-less repair system that instantly repairs small tears or splits in inflatables above or below the waterline - regardless of the fact that the material may be wet.

The system works by using two half 'shells' that screw together tightly, using the inflatable material itself as a water and air tight seal. It is quick and easy to fit and effects an immediate repair which can keep you afloat until a more permanent repair can be made.

Quick and easy to fit

Requires no adhesive or tape

Can be used above or below the waterline

Can be used on wet materials

Provides an instant repair

Re-useable again and again
The ClamSeal™ can be carried as part of your emergency equipment onboard. It can be used at sea, on shore; even underwater as no adhesive or tape is involved. The clever mechanics of the ClamSeal™ design mean this simple product can keep you safely afloat.

The ClamSeal™ has now become a permanent part of the safety kit on many RIBs around the world and is continuing to amaze those who have used them - an effective, low cost solution to an otherwise complicated problem.

ClamSeal™ is suitable for use on:

RIBs

Dinghies

Liferafts

Buoyancy bags

Virtually any inflatable product