---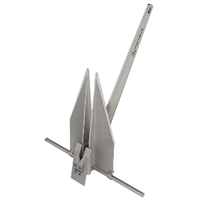 Sale
G-37 18lb Guardian Anchor for 42'-47' Boats

Boat size recommendations are for boats of average windage and proportions in 30 knots of wind, average bottom conditions, and moderate protection from open seas. Remember that the loads in 42 knots of wind are twice as much as in 30 knots.

Use three-strand nylon rope, 6-12 ft (2-4 m) of chain and a minimum of 5:1 scope. Also, a minimum of 6 ft (2 m) of chain should be used for every 25 ft (8 m) of water depth. For storm conditions use an anchor one or two sizes larger.

Specifications:

Boat Length: 42-47ft/12-14m

Weight: 18lbs/8kg

Holding Power: 32° (Hard Sand): 7,500lbs/3,402kg

Holding Power: 32° (Soft Mud): 1,500lbs/680kg

Shank: 38"/97cm

Fluke: 22"/56cm

Stock: 31"/79cm

Proof Coil Chain: 3/8"/10mm

Nylon Rope: 5/8"/16mm

Shackle Size: 3/8"/10mm

*Note: Hard sand holding power figures above represent loads actually achieved on production Fortress and Guardian anchors under controlled horizontal pull conditions without dragging or resulting in disabling structural deformation.